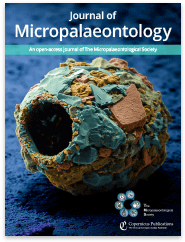 Editor-in-chief: Francesca Sangiorgi
The Journal of Micropalaeontology (JM) is an established international journal covering all aspects of microfossils and their application to both applied studies and basic research. In particular we welcome submissions relating to microfossils and their application to palaeoceanography, palaeoclimatology, palaeobiology, evolution, taxonomy, environmental change and molecular phylogeny. Owned by The Micropalaeontological Society, the scope of the journal is broad, demonstrating the application of microfossils to solving broad geoscience issues.




Notice on current restrictions
To show our support for Ukraine and in accordance with current European sanctions, we have introduced a range of measures relevant to our open-access publications process.
All fees for papers from authors (first, corresponding, or contact authors) affiliated to Ukrainian institutions are automatically waived, regardless of if these papers are co-authored by scientists affiliated to Russian and/or Belarusian institutions. The only exception to the waiver for Ukrainian authors will be if the corresponding or contact authors are from a Russian and/or Belarusian institution, in that case the APCs are not waived.
Due to restrictions for authors from Russian and Belarusian institutions that are necessary to comply with European sanctions, we recommend any authors from institutions in these countries to contact us on editorial@copernicus.org for more information.